CYDEF 2020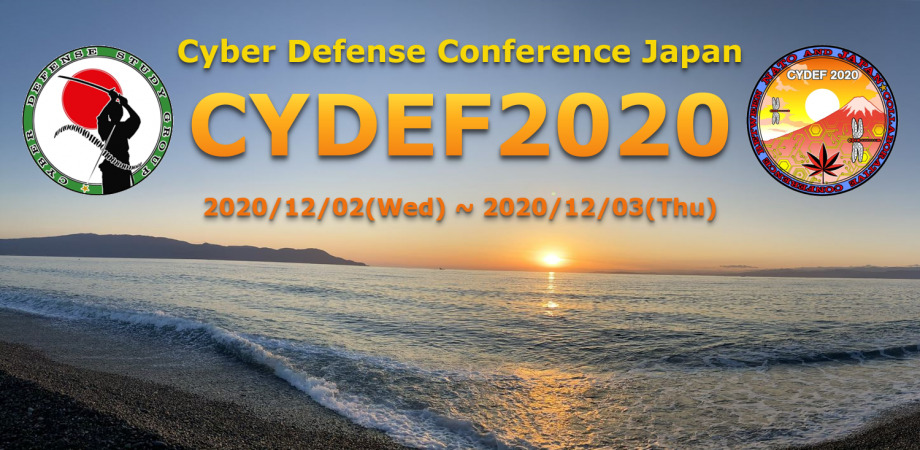 CYDEF2020 Theme
"Power Shift after Corona- Taking life to the cyber domain"

CYDEF is an international conference held by experts from domestic and overseas academic, industrial, and government sectors as well as experts in the defense to deepen discussions and disseminate knowledge about cybersecurity centering on the security domain.

The first of these conferences, CYDEF2018, was held in April 2018. The theme was "Cyber Defense Capability Building" and had 35 speakers, including 17 from abroad and about 200 participants. The second conference, CYDEF2019, was held in October 2019. It had 58 speakers, 21 from overseas, and about 350 participants. The theme was "Assessing National Risk and Establishing Multi Stakeholder Cooperation in Cyber Defense".

The discussion on the thresholds of organizations, as well as the frameworks of states, contributed to mutual understanding by examining the ways for cooperation between industry, academia and government, defense in different countries.

In this opportunity, in CYDEF2020 we hope to discuss the dramatic changes in the international environment and social conditions triggered by the Coronavirus disaster, which is currently a major threat to the world. Teleworking is being promoted at an unprecedented rate for organizational activities in companies; remote education is being promoted for research and educational activities in schools; and the online presence of government administrative services is accelerating. Moving from a real relationship to a virtual one seems to be an irreversible trend, but what will the future be like?

Rapid changes in society are also a cause for confusion. The large amount of information brought into cyberspace to avoid the coronavirus threat, often without adequate preparation, is a prime target for attacks. How should we deal with such reality?

Furthermore, in the cyber realm, ambiguity is often eliminated, spatial buffers are dissipated, and conflicts are sharpened. Nowadays, as the activities of nations are largely moving to the cyber sphere, relations between nations are becoming tenser. How will that develop in the future?

We hope that this will be an opportunity to discuss such topics with a wide range of experts online, deepen their understanding, and lay the groundwork for further cooperation.
Promoters
●Cyber Defense Study Group
●National Graduate Research Institute for Policy Studies
●European School of Management and Technology Berlin
●Cyber Security Laboratory, Meiji University
Supporters
●Cyber Security Strategy Headquarters
●Ministry of Internal Affairs & Communication
●Ministry of Foreign Affairs
●Ministry of Education, Culture, Sports, Science and Technology
●Ministry of Economy, Trade and Industry (tentative)
●Ministry of Defense
●The NATO CCDCOE (The NATO Cooperative Cyber Defence Centre of Excellence)
●United States Army Cyber Institute
●Embassy of America in Japan
●Embassy of Australia in Japan
●Embassy of Estonia in Japan
●Embassy of France in Japan
●Embassy of Germany in Japan
●Embassy of India in Japan
●Yokosuka Telecom Research Park, Inc.
●Yokosuka city
●Rangeforce, Inc.
●Yokosuka Marine & Cyber Education Support Association
●The Watanabe Memorial Foundation for the Advancement of Technology
Randam order Performing Form
Keynote speech : Recorded video message
Panel discussion : Live video distribution
TIMETABLE
DAY1: Dec 2, 2020
※発表は全て同時通訳されます。プログラムは予定です。当日変更となる可能性があります。予めご了承ください。
SPEAKER
1600-
Greeting  1-1
●Mr. Nakatani Gen, Member of the House of Representatives
–
Greeting  1-2
●Dr. Sandro Gaycken, ESMT Berlin
-1615
Greeting  1-3
●Dr. Sunami Atsushi, President of Sasagawa Peace Foundation
1615-1620
Cautions Remark
STAFF
1620-1640
Keynote Speech 1-1
●Mr. Christian Liflander, Head of the Cyber Defence Section, Emerging Challenges Div., NATO
1640-1700
Keynote Speech 1-2
●MG Taura Naoyuki, Director, C4 Systems Department(J-6)
1700-1720
Keynote Speech 1-3A
Keynote Speech 1-3B
●Col. Jaak Tarien, NATO Cooperative Cyber Defence Centre of Excellence
●Mr. Rudolf Hilti, Founder & Presidentof The System Change Foundation & THE HUS
1720-1840
Panel Discussion 1-1
【Cyber Defense / Diplomacy】
●Dr. Sandro Gaycken, ESMT Berlin
●Dr. John Mallery, WFA Group, LLC CTO
●Ms. Heli Tiirmaa-Klaar, Estonian Ambassador-at-Large for Cyber Diplomacy
●Mr. Akahori Takeshi, Ambassador (United Nations Affairs, Cyber Policy), Deputy Assistant Minister, Foreign Policy Bureau, Ministry of Foreign Affairs of Japan (MOFA)
●Dr. Thomas Fitschen Special Representative for Cyber Foreign Policy and Cybersecurity, German Federal Foreign Office.
1840-1900
Keynote Speech 1-4
●Major Jessica Dawson, US Army Cyber Institute
1900-1920
Keynote Speech 1-5
●Major General (retired) Tanaka Tatsuhiro, Fujitsu System Integration Laboratories Limited
1920-1940
Keynote Speech 1-6
●Visiting Professor of Cyber Studies Chris Inglis, Former Deputy Director, United States Naval Academy
1940-2050
Panel Discussion 1-2
【Quad Corporation】
●MD: Dr. Michishita Narushige, National Graduate Research Institute for Policy Studies
●R.Adm(ret) Sasaki Takahiro, Fujitsu
●Ms. Trisha Ray , Observer Research Foundation
●Dr. Martijn Rasser, Senior Fellow of CNAS
●Dr. Rory Medcalf, Head of College, National Security College Austlaria
2100-2120
Keynote Speech  1-7
●Dr. Michael Kripstein,United States National Security Council
2120-2140
Keynote Speech  1-8
●Dr. Watanabe Hideaki, former Acquisition Technology and Logistics Agency
2140-2200
Keynote Speech  1-9
●Dr Tobias Feakin, Ambassador for Cyber Affairs and Critical Technology
2200-2310
Panel Discussion 1-3
【Law Enhancement(Tentative)】
●MD:Prof. Yuasa Harumichi, Institute of Information Security
●Mr. Takahashi Ikuo, Lawer
●JD. Joel Brenner, Senior Research Fellow of MIT Center for International Studies
●President Melissa Hathaway, Hatherway Global Strategies
2310-2320
Greeting  1-4
T.B.D.
DAY2: Dec 3, 2020
SPEAKER
1600-
Greeting  2-1
●Prof. Dairokuno Kousaku, President of Meiji University
–
Greeting  2-2
●Dr. Michishita Narushige, Vice President of National Graduate Research Institute for Policy Studies
-1615
Greeting  2-3
●Mr. Hayashi Ryozo, Japan Society for the Promotion of Machine Industry Economic Research Institute
1615-1620
Cautions Remark
STAFF
1620-1640
Keynote Speech 2-1
●Bashir Bernard Siman, O.B.E. Associate Professor Department of World Politics Koninklijke Militaire School/ecole royale militaire/ Royal Military Academy Belgium
1640-1700
Keynote Speech 2-2
●Dr. Misumi Ikuo, Visiting Professor of National Institute of Informatics/ Tokai University, Former deputy of National Center of Incident Readiness and Strategy for Cybersecurity
1700-1720
Keynote Speech 2-3
●Mr Yan-Taro Clochard, SECURE-IC North Asia Sales Director
1720-1840

Panel Discussion 2-1
【Cyber Education in High Education】
●MD:Dr. Kondo Reiko, Director, ICT Standardization Division, Global Strategy Bureau, Ministry of Internal Affairs and Communications
●Dr. Didier Danet, French Military Aacademy
●Prof. Francesca Spidalieri, Salve Regina University
●Dr. Mitsunaga Takuho, Toyo Univ.
●Prof. Tampinongkol Sebastiaan, Head of Learning Innovation and Development of NATO Commmunication & information Academy
1840-1900
Keynote Speech 2-4
●Mr. Hirayama Toshihiro, Lecturer of Information Management Innovation Professional graduate school
1900-1920
Keynote Speech 2-5
●Dr. Chris Demchak, U.S. Naval War College, Cyber and Innovation Policy Institute
1920-1940
Keynote Speech 2-6
●CAPT(ret) Matsuoka Hideki, Japan Oracle
1940-2050
Panel Discussion 2-2
【Cyber Advanced Technology】
●MD: Mr. Lauri Korts-Pärn, Cyber Defense Institute
●Mr. Dave Aitel, Founder, Immunity, Inc., Aitel Foundation
●Ms. Sophia D'Antoine, Margin Research
●Mr. Yoshimura Takahiro, CTO, Monolith Works Inc.
2100-2120
Keynote Speech 2-7
●Senior Vice President James Lewis, CSIS
2120-2140
Keynote Speech 2-8
●Prof. Tezuka Satoru, Keio University
2140-2200
Keynote Speech 2-9
●JD. Michael Chertoff, Former Secretary Department of Homeland Security; Executive Chairman and Co-Founder, The Chertoff Group
2200-2310
Panel Discussion 2-3
【Impact of Cyber Geopolitics on
Industrial security and companies】
●MD:Professor Ikegami Jyusuke, Waseda Univ.
●Dr. Philippe Baumard, LeCNAM
●Mr. Rob Koepp, Principle of Geoeconomix
●Mr. Kondo Go, Attorney-at-Law
2310-2320
Greeting  2-4
●Gen(ret).Yano Yoshiaki, Lecturer of Tokyo Institute of Technology